6

min readMorning Guide to Politics, Monday July 17th
Morning Guide to Politics, Monday July 17th. 
This week on the hill
The Senate Republicans are scrambling to pass the Better Care Reconciliation Act, or BCRA, so that it can be opened up to the floor for amendments and debate. Senate Majority Leader Mitch McConnell is expected to use the extra time given to him by Senator John McCain to lobby votes. Senator McCain forced a delay on the vote because he is having a medical procedure and would not be able to be present for the vote. This is a potential blessing for both sides, who will now have time to lobby for and against the bill.
This weekend President Trump tweeted about the USGA Womens Open, the Stock Market, Hillary Clinton, Russia, fake news, his approval rating, and Michael Cuputo. What he was not tweeting about: Wishing John McCain well on his medical procedure, urging Senators to vote yes on the upcoming health care bill, how he is lobbying in individual states to get the bill passed (he isn't), and how he plans to get legislation passed before the Senate goes on recess, which has already been extended. If President Trump wanted to get the health care legislation passed, he would be out in states and rallying support for the bill, he would be going to the hill to speak to Senators about their concerns, and raising support for the bill in the media. Instead he has been going to a golf tournament, tweeting about his approval ratings, and watching Fox News. This bill is one vote away from failing, if this bill fails the effort to pass repeal and replace legislation that has been seven years in the making will be politically dead.
Covers
Time Magazine just released their new cover for this week, take a look.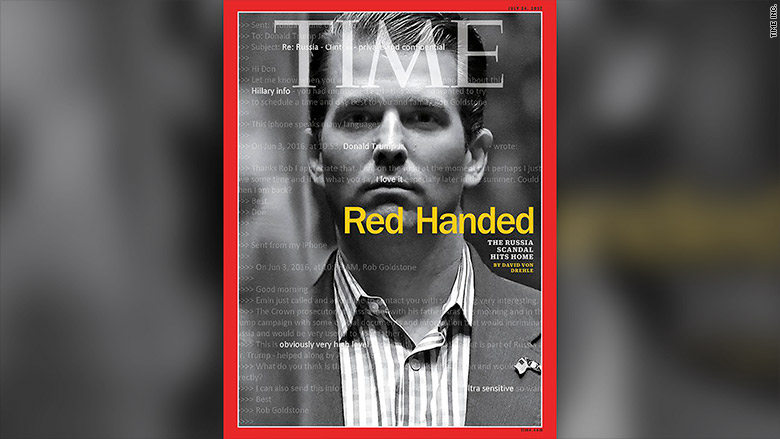 Sunday talk
Face the Nation
Who was on
Trump attorney Jay Sekulow talked with host John Dickerson about the recent Russia story involving Donald Trump Jr.
Senator Mark Warner talked health care (and he had a hoarse voice which made it lots of fun to listen to him)
Senator Rand Paul discussed the upcoming health care vote, not that there is a timetable anymore
This Week
Who was on
Trump attorney Jay Sekulow talked with host George Stephanopoulos about Donald Trump Jr. and Russia
Rep. Adam Schiff talked about the Russia scandal and more
Secretary Tom Price of Health and Human Services talked about the Senate health care bill
Senator Susan Collins spoke about the Senate health care bill
Abby Philip of the Washington Post
Megan Murphy of Bloomberg
Michael Cuputo, former Trump advisor
Matthew Dowd, ABC political analyst
State of the Union
Who was on
Trump attorney Jay Sekulor talked with host Jake Tapper about the meeting at Trump Tower in June 2016 between Trump associates and Russian officials
Senator Mark Warner spoke to Jake Tapper about the Senate health care bill
Senator Susan Collins and her plan to vote 'no' on the Senate health care bill
Meet the Press
Who was on
Attorney for Donald Trump Jay Sekulow spoke to host Chuck Todd about the Russia story and the legal implication of it
Senator Mark Warner talked health care
Senator John Cornyn, the Senate Majority Whip, talked about the logistics of securing the votes to pass the Senate health care bill
The buzz
Secret Service tells us that Trump Jr. was not under protection during Trump Tower meeting
POLITICO
The U.S. Secret Service on Sunday said Donald Trump Jr. was not under protection during his meeting with a Russian attorney in June 2016, adding that they would not have screened any of his meetings.
"Donald Trump, Jr. was not a protectee of the USSS in June, 2016. Thus we would not have screened anyone he was meeting with at that time," Secret Service spokesman Mason Brayman said in a statement to Reuters.
On Sunday morning, Jay Sekulow, a member of Trump's legal team, questioned on ABC News' "This Week" why the Secret Service allowed Trump Jr. to meet Kremlin-linked Russian lawyer Natalia Veselnitskaya.
"Well, I wonder why the Secret Service, if this was nefarious, why the Secret Service allowed these people in. The president had Secret Service protection at that point, and that raised a question with me," he said.
Trump Jr., along with, then-campaign chairman Paul Manafort and adviser Jared Kushner, met with Veselnitskaya, who said she had damaging information on Democratic candidate Hillary Clinton.
The Times
While visiting with President Emmanuel Macron of France in Paris for Bastille Day, President Trump defended his son's actions and said he was "a wonderful young man."
The two leaders sought to play down sharp differences over trade, immigration and climate change, and, in the end, forged an unlikely friendship. Above, the presidents with their wives, Brigitte, left, and Melania.
Back in the U.S., the Presidential Advisory Commission on Election Integrity — formed by Mr. Trump to investigate possible election fraud — will hold its first meeting this week, without the extensive personal information on voters it requested from states.
White House announces new theme weeks amid health care uncertainty
POLITICO
With Republicans' health care bill in jeopardy, the White House is once again turning to a series of unrelated themed weeks to organize President Donald Trump's schedule.
Over the next three weeks, the White House will hold events pertaining to three vaguely defined themes: "Made in America," "American Heroes" and "American Dreams."
Administration officials bristled at the notion that the themed weeks could distract from the debate over repealing and replacing Obamacare, one of the president's biggest policy priorities.
"Every day and every week, in a sense, is a health care week," a senior administration official told reporters during a briefing here. "It's something that enormous White House and administration resources have been devoted to since Day One."
This week will include at least two events tied to the "Made in America" theme, including a "product showcase," in which American-made products from all 50 states will be brought to the White House. On Wednesday, the president will issue a proclamation on the importance of making products in America, White House spokeswoman Helen Aguirre Ferre said Sunday.
Ferre declined to say whether the president would use the week to push his daughter Ivanka Trump to manufacture products from her fashion line in the United States instead of overseas. "We'll get back to you on that," she said. Many of the president's own branded products are made overseas as well.
A Friday story in The Washington Post showed that the fashion line manufactures its products in foreign factories.
Ferre offered few details on the other two themed weeks on the schedule, though she suggested the "American Heroes" week will include military veterans.
She also declined to say whether the president made calls to senators over the weekend on the health care bill. "The president has been monitoring what's going on with health care, and he and his staff have been involved with what's going on in the Senate," she said.
Reads
Here are our picks of the best opinion pieces of Sunday
That's all for today. NOTICE: I will be vacationing at a remote location for the next week and will be back next Monday.
Braeden Giaconi
Founder and editor of braedenpoliticslife.com